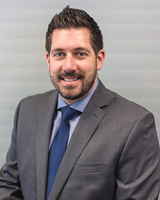 Dr. Fawson has been in practice since 2015 where he practiced in Denver, Colorado until relocating to Las Vegas in 2018. His interests as a foot and ankle specialist include:
Reconstructive foot and ankle surgery to repair bunions, hammertoes, flatfoot, arthritis and joint pain, and other foot problems. Sports related injuries to the foot and ankle including sprains, tendon injuries, and fractures. Diabetic foot care including wound care and limb-saving surgery. He enjoys working with children and making the experience for them as comfortable as possible. Dr Fawson can offer many alternatives to surgery to treat your foot and ankle problems.
Dr. Fawson grew up in the Bay area of Northern California. He then spent 2 years living in the Philippines and is fluent in the Tagalog language. He went on to obtain his bachelors of science in exercise science and a minor in Business management from Brigham Young University. He obtained his doctorate of Podiatric Medicine from Barry University School of Podiatric Medicine in Miami, Florida. His residency training was obtained from the Salt Lake City VA hospital , University of Utah, and Intermountain hospital system.
Dr Fawson enjoys spending time with his wife and 4 children. He is an avid golfer, enjoys competing in long drive golf events, plays basketball, and any outdoor activity. He is a DIYer and always has a project he is working on around the house.